Products
Storage Battery
Features of our battery system

Are you in trouble in such a thing?
Electricity can not be stopped even for a moment
Even in the case that a slight equipment stops has a big influence on communication equipment and production equipment.
Uninterruptable UPS
When power failure occurs, power is supplied from the storage battery without stopping for a moment. In addition, we respond to the instantaneous voltage drop that occurs during operation.
Want to stabilize unstable electric power, also to cope with lowering of voltage.
Instantaneous switching UPS
Even with unstable power such as electricity generated by a photovoltaic power generation system which is not suitable for precision equipment, it is possible to supply electric power steadily by using instantaneous switching UPS together.
Want to make effective use of surplus electric power
You can use surplus power of solar power generation without wasting
AC / DC double charge
Our battery storage system can choose to charge directly from either AC / DC power supply. Besides photovoltaic power generation, direct charging is possible even when generating by wind power and it is not necessary to perform AC / DC conversion, so it is possible to prevent loss during conversion. Also, by accumulating surplus electric power after electricity generation, it can not be used unnecessarily when needed.
want to run large-scale facilities
It can be used in various applications ranging from 10 kw, 50 kw, 100 kw to package type
Large-capacity, high-output UPS
General private power generation equipment takes time to start generating electricity, and depending on the equipment, it may be necessary to start it manually.Since large capacity, automatic switching typeof high-output UPS can be started automatically, even unattended such as night time or holiday can be used with confidence.
want to reduce electricity charges
EMS contributes to optimum operation of electric power.
Peak shift · Power saving function
Peak shift function charges at night when electricity is cheap by timer setting, electricity supply during the day when we use a lot of electricity. Optimum operation according to changing electricity rate throughout the day, we will save electricity automatically. ""We highly recommend using a compatible solar power generation system together.
---
Guidance of Package type
Packaged type products are also available. You can choose according to the application and installation location.
Storage type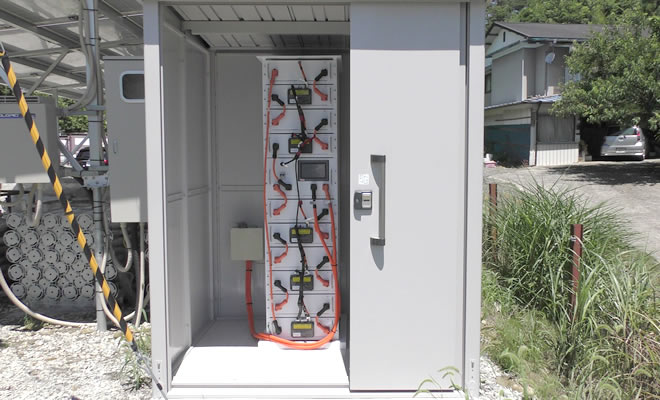 All necessary equipment such as storage batteries and power controllers are built in the storeroom and there is no need to build a new building. In addition, the wiring installed inside the storeroom in a completed state can minimized the time for introduction.
| | |
| --- | --- |
| Product lineup | 10kw、20kw、30kw |
Container type
For your suggestions large capacity container type is also available.
| | |
| --- | --- |
| Product lineup | 50kw、100kw |
Copyright © ARCA All rights reserved.